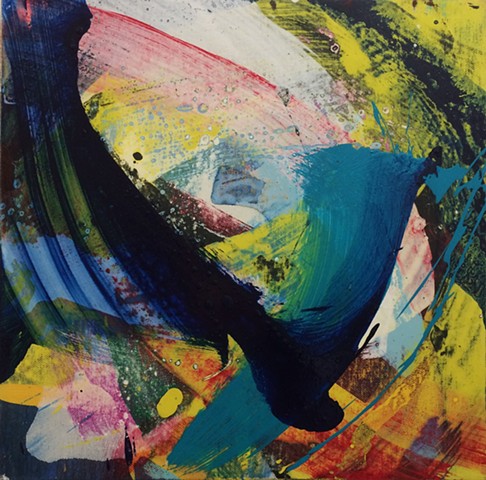 I see absolutely no reason to begin work knowing exactly what is going to happen. I want to be surprised during the creative process and also long after the event. This can only be achieved by working quickly, intuitively and in the moment, avoiding reliable techniques and knowing when to move on to something else.
Paint is a material that can convey much more than just visual information, when understood and used with feeling. Like playing music, it is not just about playing the right notes in the right order. Painting without feeling becomes an exercise in pure technique and ultimately means nothing.



2018
RP Art Fair, London, Nov
MRS Gallery8, Oxford, Jun


2017
The Other Art Fair London
The Other Art Fair Bristol
Studio 53 Salisbury
Fusion Art Market, Oxford
2016
SOCA Oxford
Brighton Art Fair
The Jam Factory, Oxford
Veronica Stewart Arts Trust, Studio 53, Salisbury
"Dis-Locate" Magdalen Road Studios, Oxford
Oxford International Art Fair
"The Waiting Room", 44AD, Bath
2015
Flux, Royal College of Art, Kensington
Frome Art Fair, Rook Lane, Frome
"CHROMA", Studio 53, Salisbury
The Other Art Fair,Bristol
2014
"Linear", Studio 53, Salisbury
Cultivate Gallery, Vyner St, London
2013
"Eight", Smith & Williamson, Salisbury
"New Visions III", Grant Bradley Gallery, Bristol
"Recent Work", Studio 53, Salisbury
"Red Revised", Cultivate Gallery, Vyner St, London
2012
Fringe Arts Festival, Bath
"Figure One", Studio 53, Salisbury
2011
Store Street Gallery London
"Hidden Portraits" View Gallery, Bristol


Visits to my studio can be arranged by appointment. There is parking available at the studio.
Please contact me at paulfenwickart@gmail.com
Magdalen Road Studios, Oxford, OX4 1RE